Mini and Petite Golden Doodle Testimonials
'You are invited to email us with your testimonials and Mini Doodle photos to be featured on this page'……Jean
(chocolate Mini Golden Doodle) I just wanted to send you a picture of SI. He will be 2 in April and has been such a joy in our family. Enjoy the Holidays! Kate, 12/05/2014
"Happy Holidays Jean!
I wanted to send you a cute picture of Noah. He is a happy, loving 13 lbs.( at this point) cutie. We are taking puppy classes at Pet Smart, he is in a weekly puppy play group in our neighborhood, and rides in the car with me from Ithaca to Rochester and Canton on are regular basis. Thank you SO MUCH for him. He causes quite a stir wherever we go! I have given your name to a number of people as a referral. I can't tell you how many times someone has stopped me to ask about him and where he came from. Thanks again! Take care."
– Carol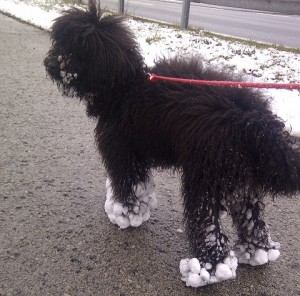 "Hi Jean!
 Just a picture I took yesterday while walking with Charlie in the snow here in Germany! He loves the snow and can´t get enough. Charlie is a great dog, he loves everyone and everyone loves him, you can´t pass people or other dogs without him saying hello to them! He is super friendly and he is a teenager now and tests how far he can go… 
We wish you a merry Christmas!"
Best regards from Germany, Claudia & family and Charlie
"There really are no words adequate to express just how grateful we are for you allowing us to make Scout a member of our family!  He is such a joy and we just love having him!" – Best, Kris, Nate, Quinn & Hudson
"Hi Jean,  We love Abby — she's playful, sweet and adorable! She's 9 months old, 28 lbs and has been to training classes – she can sit, stay, come, leave it, look, and heel…unless she's distracted 🙂 She goes to a puppy day program 2 days a week and loves it — she even has a boyfriend, a West Highland White that's smaller than she — they're pretty cute together. (and yes, we've had her spayed!) The pictures were taken shortly after she arrived at our house, one from the summer and one is recent. Thank you again — please don't hesitate to use us as a reference! Warm wishes for a happy holiday season!" – Anita Rogers
"Here is a photo of "Hanah". She is doing great!…a "Real Love"
– Carl & Marion Wenberg
"Hi Jean, We adopted Bebe, now Leo, in November. He is wonderful and we are enjoying him. He will be five months old soon and weighs about 22 lbs." – Thanks, Michelle – Saratoga Springs, NY
"Hi Jean, Just wanted to drop you a note letting you know Tug (AKA Anthony) is doing great. He is a wonderful addition to our family!" – Sandi, Rich, Luke, & Cole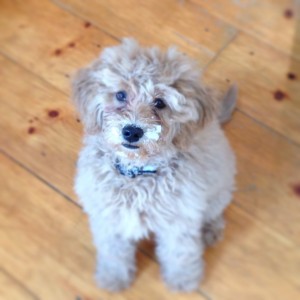 12/20/2013 "Hi Jean, I just wanted to drop you a quick note to tell you how in love we are with Cesar a.k.a. Harper. He has added so much joy to our family. My husband was lucky enough to be able to stay home with him for the last three months. Today was Harper's first day at doggy daycare and he did great. Thank you again, he is the joy of our life.
He rings the bell to go outside to go to the bathroom like a champ. He's totally housebroken, just dealing with a little bit of biting.
We crate trained him from the beginning and he loves his crate. We have had no issues whatsoever with him. Thank you again and happy holidays." – Kathy Rivard
 1/12/14 "Hi Jean, Betty is the best dog ever and we couldn't love her more! Oh, and she looks just like her dad!" – Thanks again, Nicole, Christine and Ella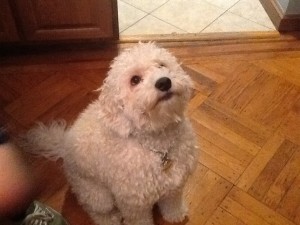 12/07/2013 "Hi Jean, Just wanted to send you a message telling you how much we enjoy Cody. He has brought so much joy into our home. There is truly nothing like the love of a dog. We are pretty sure that today is Cody's birthday so we wanted to tell you he is doing great! Here is a picture of the birthday boy."
10/11/13 "I just wanted to send you a recent picture of Dory (Ceci). She's a wonderful addition to our family. Dylan is enjoying her so much. She's 7 lbs now." – Deb Welsh
"Here he is!  Now 5 months old and isn't Furgus the cutest!"  -Lisa
9/24/2013 "Hi Jean. thought you would like to see our little Madison – she is almost 10 months!! She is just under 25lbs and the best puppy ever. We love her so much! thanks for her! Do you have any pics or contact info of her brothers/sisters that are in the NYC area?"